Monthly Archives:
June 2012
Mark and Steve were absent for this show.
I played a song by Headless Death and here is their whole demo for download. They feature Christoph from Roskopp/Internal Rot/Trench Sisters and Zev from Roskopp/Aeroflot/Injury To Eye and some other blokes so check out their tasty death grind.
I mentioned Voivod playing all of Dimension Hatross live and I thought it was just a Canadian gig but I'd forgotten they'd curated the Roadburn festival this year and played all of it there too. Here is the live version of the song I played on radio and their whole set is available here.
Playlist
Rome: Ni Dieu Ni Maitre
Deicide: Sacrificial Suicide
Katatonia: Dead Letters
Dead Infection: From The Anatomical Deeps
Deathspell Omega: Scorpions And Drought
talk break
Sabbat: Do Dark Horses Dream Of Nightmares?
Carnage: Blasphemies Of The Flesh
The Levitation Hex: Scratch A Life Find A Thief
Macabre: Vampire Of Dusseldorf
talk break
Dying Fetus: In The Trenches
Beherit: The Gate Of Nanna
Naked City: Obeah Man
Naked City: Facelifter
Naked City: NY Flat Top Box
Rompeprop: Embryoyo
Pisschrist: System Stagnates
Impiety: Sodomythical FrostGoats
talk break
Anhedonist: Carne Liberatus
Voivod: Macrosolutions To Megaproblems
Headless Death: Dietary Underclass
Nile: Supreme Humanism Of Megalomania
Diocletian: The Iron Fist
talk break
Manowar: The Lord Of Steel
Warsore: Industrial Suicide
Warsore: Burial Ground
Warsore: Decomposed
Arcturus: Icebound Streams And Vapours Grey
Candiru: Angles
talk break
Old Man Gloom: Sleeping With Snakes
Exit-13: Societally Provoked Genocidal Contemplation
Machetazo: Banquete Funerario
Mournful Congregation: The Waterless Streams
talk break
Idylls: Paradise Of Blood
Tiamat: On Golden Wings
The Kill: Fucking Doyle
Sadistik Exekution: Internal Klok
Damaged: Dethroned Emperor
Napalm Death: Deceiver
Napalm Death: Lucid Fairytale
Napalm Death: In Extremis
talk break
Slayer: At Dawn They Sleep (live)
After 3 weeks in the US going to gigs in New York and to Maryland Deathfest the last thing I wanted to do when I got home was go to a 3 day metal festival. However organiser Hushy didn't take my wimpiness into consideration when he planned such an awesome line up of Aussie metal bands and Inquisition (twice!). So after a quite unproductive half day at work I hooned up the Hume Highway to Sydney in the ute and prepared myself for more booze and metal (it's a hard life!).
Day 1
The first night of the festival was at the Bald Faced Stag pub in Leichhardt which I've been to plenty of times over the last few years and it's a decent venue with a sometimes patchy sound. While waiting for the bus I got chatting with a couple of obvious metalheads who turned out were from Queensland and had been at MDF that year as well as prior versions that I'd attended. Small world! Once I got to the Stag I seemed to spend bloody ages catching up with friends as I swear I know more people at Sydney and Melbourne gigs than Canberra gigs these days. Some of my Melbourne mates had only just arrived back in Australia from the US and so they were very weary. I also had a friendly bloke recognise me from this website which was a strange but pretty cool feeling (cheers cobber!). After rubbing in how much fun I had in the US, my beer consumption commenced and I finally remembered to check out the bands!
Due to all my socialising I only caught the last 2 songs of Demonreich who I was unfamiliar with but they sounded like pretty decent thrashy black metal with a slight punk feel. I made sure I was present for Innsmouth though as I quite enjoy their slow death metal and they put on a killer set. They always have a kick arse sound that's both fuzzy and heavy which goes perfectly with Beau's raspy vocals and tonight was probably the best I've seen them play. As it was my first gig since MDF I half expected to see a guy in a chicken suit starting a circle mosh but instead there was just good old fashioned headbanging. I wish I could see these chaps live more often as they are great. Below is some footage of Innsmouth playing Aloof With Cloven Hooves shot by top bloke John which I pinched from YouTube.
After a quick trip down Parramatta Road for a yummy lamb pide I returned to watch Queenslanders Carbon who I probably hadn't seen since Bloodlust in 2004! At first their speedy black metal was somewhat lost in the mix but as I stood there for a while it improved although I wasn't sure if they changed a setting or whether my ears just got used to the shrieking din. Once I could make some of it out they sounded pretty awesome and impressed both radio cohost Mark and myself. Hurry up and produce an album blokes!!
StarGazer followed but suffered from probably the worst sound of the fest which really sucked as they need a decent sound to be fully appreciated. I was told their vocals had been turned down by the pub management due to a curfew. Sadly the guitar was about all that could be heard which is a real shame as I love Damon's bass playing. I get the feeling that StarGazer is his and Denny's outlet for really crazy music so to only be able to make out some was a bummer. They still played well and my imagination did some work recreating the songs in my head. I was also sad that they didn't play Magikkian which is a favourite song of mine. I think the highlight for Mark was the fact the drummer had roto toms! A real shame as they are an awesome band.
Somehow this was my first time seeing Vomitor and their beautifully primitive and brutal metal definitely didn't disappoint. The raw live sound suited them perfectly and they also had Illogium from Portal on 2nd guitar which added to the sound. The vocals on their albums have always had a ton of reverb but live it was even more over the top which worked great in the songs but when he was talking he could barely be understood. I couldn't help but chuckle as he reminded me of the Ayatollah Of Rock And Rolla himself, The Lord Humungus which was not a bad thing at all. The crowd were a bit more active than earlier and there were some attempts at stage diving including the always bizarre dives between songs (ie. when the band aren't actually playing). Great set and ever since I've discovered their 2 albums creeping into my playlists more regularly. Looking forward to their new album which should be out sometime this year. Here's a pic I stole from Rani.
Headlining was the mighty Inquisition who came over from the US for a whirlwind 4 date Australian tour and damn they kicked a ton of arse!! I had officially seen them before at MDF 2011 as I detailed here however I was shitfaced at the time and barely remember a thing so this was my real first time seeing them. In keeping with tradition I had consumed quite a few drinks by now but I wasn't too sloshed to remember it. They played plenty of newer songs which was fine by me as I love their Ominous Doctrines Of The Perpetual Mystical Macrososm album and they are one of the few long running bands that are actually getting better with time. Desolate Funeral Chant was a highlight with it's menacing slow riff and those occasional strange desperate sounding wails that sound like Jello Biafra. Another highlight was the classic song Crush The Jewish Prophet with it's great singalong chorus which the crowd really seemed to enjoy. I'm still amazed by the sound they can produce as just a two piece although whingy Mark later complained about all the missing bits. They were tight as a nun's proverbial too. Really impressive live and I was stoked to finally see them properly.
The boozing and socialising continued after Inquisition and I remember having a discussion with a mate about whether ghosts of disabled people would retain the disability after death (ie. a ghost in a wheelchair?). Deep stuff folks! (or in reality pissed idiots talking shit). I also remember Mark trying to tell a joke which he acknowledged was bad and we kept interrupting to ask stupid questions about specifics and it took him 10 minutes to tell it but I'll be buggered if I can remember the actual joke. We also had fun with a random guy from Perth who took mock offence at our dislike of the Vio-Lence singers voice and we managed to offend him again by listing other singers we hate. All good fun and I talked to him a few times over the weekend. After a couple of final rounds of Tooheys Old we stumbled outside and I got a cab quicksmart which was handy. I somehow resisted the urge to get dropped off at my usual dodgy pizza joint in the city and just got out at my hotel.
Day 2
Day 2 began with my somewhat standard state after a gig the night before – a hangover! I drank some water before going to bed but obviously not enough as I felt pretty bloody dusty. I arranged to meet mates Mark and Sean at Newtown for breakfast and caught the bus there. While wandering around I saw the strange sight of legendary Sadistik Exekution fan and Sydney metal identity Slasher racing around on his motorised scooter. After 2 coffees and a big breakfast I felt mostly human again and we strolled down King Street to Sydney Uni and made our way in to the Manning Bar which I much prefer as a venue to Bald Faced Stag as it's bigger, has better sound and the sunken stage area allows better views for all. I quickly discovered that 2 of my friends had EXACTLY the same shirt as me on which was amusing (great minds…) but I only managed to get a pic with Bianca as Dave couldn't be found at the time.
Mongrel's Cross opening proceedings to a somewhat sparse crowd of rather weary looking people most likely with similar hangovers to mine. Not many beers were being consumed at 1.45pm except by the diehards. Immediately the sound was better than the previous night and in fact every band that day sounded great. Their deathy blacky thrashy style was really enjoyable and I am keen to check out their new album The Sins Of Aquarius. The floor area was empty for half their set but a few dedicated or newly won fans wandered down the front.
Traditional doommongers Rituals Of The Oak were on next and they sounded great even though I was slack and was only listening to them from the balcony outside. I really enjoy their albums but my new Vio-Lence loving mate from Perth was whinging up a storm about the vocals which I thought sounded great. They were a nice interlude before the intensity begun.
New Zealand death/black metal chaps Heresiarch were on next and they were a force to be reckoned with! Their sound was heavy and dense and quite unrelenting but the highlight for me were the vocals which were really deep and intense. The vocals reminded me of old early 90s death metal bands from the days before singers went "breee". Their demo and follow up EP impressed me but live they sounded much more full on and forceful. A New Zealander that I talked to the previous night wasn't much of a fan and called them Diocletian wannabes but I really enjoyed their set and thought that had their own style. Nice work blokes!
Denouncement Pyre are a bit of a blur but I did enjoy them and they nicely melded black and death metal together along with a very lively performance. Destruktor were as blasting as usual but I can't help thinking back to the first time I saw them at a Bloodlust when they seemed a bit thrashier and so intense that it almost hurt. Part way through their set I took the opportunity to scoot off with my friend Katie for a bit of dinner as I had no desire to see any of Lord. Apparently a lot of people had similar thoughts and I think poor Lord played to a much diminished crowd.
We got back in time for Impetuous Ritual who continued the intensity (I know I've overused this word but it really was an extreme couple of hours!). Once they were on stage the vocalist started growling at the crowd for a minute before they launched into their chaotic assault on the senses. I know tons of people who love them but for me the songs are a bit lacking in variety and dynamics and they get a bit samey. Most of the crowd seemed to be in a daze while they played but the band made up for it by putting on a dark, crazed performance that finished with one guitarist ripping out his strings.
I got caught up chatting with mates and only listened to Astriaal who sounded pretty impressive from outside. Only later did I see pics like the one below of singer Arzarkhel wearing some evil robe outfit.
Assaulter had a nicely crisp, metallic sound and their speedy thrash was a welcome change from the 4 death/black bands I had seen previously. It was great to be able to watch them as I remember one gig at Newtown RSL where I stood in a stupidly long queue for drinks for the entire Assaulter set and could only listen. Drum slut extraordinaire Yonn provided the battery and did a great job. Exalt The Master was probably the highlight for me but the whole set was really enjoyable. Assaulter had shirts for sale with Choose Death written in huge letters however I thought they looked a bit too much like the Choose Life shirts that Wham wore so I didn't buy one (plus I hate text in large font on shirts). I do love their image of a great white shark chasing the Christian fish symbol though.
Up next were one of the main bands I came to see – funeral doom gods Mournful Congregation – and they were incredible!! They only had a 40 minute set so only 3 songs were played which were Mother – Water, The Great Sea Wept from their The Monad Of Creation album, The Epitome Of Gods And Men Alike from their split with Worship and Suicide Choir from their The June Frost album. I was a bit surprised they didn't play anything off the amazing new album The Book Of Kings but I guess it's difficult to cover all releases in 40 minutes when your average song length is more than 10 minutes. In the live setting Mournful use 3 guitarists which gives them a massive sound and also helps maintain the heaviness while they solo which is pretty regularly. The soaring lead work is one of the main highlights for me as it adds to the overall gloominess to the music while also providing an uplifting feeling (that sounds a bit emo when I read it back but oh well). The crowd were understandably subdued for their set and a mate mentioned that their gigs would be made better if everyone was given a beanbag to sit on. I was loving it though and their performance was one of the few on the fest that really captured your entire attention and transported you to another plane. Make sure you check out Mournful Congregation on the upcoming tour with Chilean doom band Procession which you can obtain tickets to here. Here is some live footage I found which is part of the song The Epitome Of Gods And Men Alike.
Aussie thrash legends Hobbs Angel Of Death followed and certainly woke the crowd from their doom slumbers. Haha the first thing I wrote in my notes at the time was "looks like Cheech" (from Cheech And Chong) as Hobbs does have a passing resemblence to the stoner legend. So of course we stood around like idiots cracking "Dave's not here, man" jokes for half the set. They were in fine form though and finally my favourite song Crucifixion got an airing which also stirred the pit into action for a while.
For the second night in a row Inquisition headlined and Saturday night they had an incredible live sound which added even more to their already amazing performance. I watched from one of the higher areas and had a perfect view of the drummer which led to much jaw dropping on my part as he was tight as buggery! They played a similar set although they mixed the order of songs up a bit. I was very pleased that he didn't use the black metal voice while talking between songs as generally it comes across as hokey (unless it's Proscriptor from Absu and then he's illegible but infectious in his sincerity). Cosmic Invocation Rites was my highlight this night although it was another amazing set.
Unfortunately the Manning Bar is similar to the ANU bar here in Canberra and they basically shut up shop as soon as the bands end. This always pisses me off as it's a metal gig for fucks sake and people ARE going to drink more! We were moved on by the bouncers rather rapidly so Chris and I decided to head over to the legendary Lansdowne Hotel for some more drinking. Seems half the crowd had the same idea as the pub rapidly changed from some normal people to dozens of hairy and deaf metalheads and the whole upstairs area was rapidly taken over. I had been trying to avoid the mixed drinks hangover from the night before by being girly and only drinking cider but the Lansdowne had run out of the nice James Squire stuff so I was stuck with crappy Bulmers which didn't go down too smoothly. After a few hours of fun and booze Chris and I hit the wall about the same time and departed. He caught a taxi and I walked into the city meeting some random hipsters on the way who were friendly enough. That night I succumbed to the drunken need for hot food at 2.30am and to my delight discovered a Pie Face shop about 50m from the hotel so I purchased 2 sausage rolls and stumbled up to my room. I again remembered to drink some water but it was obviously not enough to avoid hangover number 2.
Day 3
Day 3 started with another big breakfast and caffeine injection in Newtown that breathed some life back into my tired, ageing body. As usual the Newtown oddities were out already including a guy with a top hat and modern looking penny farthing bike (which he wasn't even riding). There were some rough and dodgy looking characters wandering around at 10.30 too although I suspect that if I had looked in the mirror I wouldn't have looked too different.
I returned to the Bald Faced Stag at about 1pm and got stuck into the caffeinated soft drinks. I had to drive back to Canberra that night so no boozing for me which after 2 days of ample drinking was a mercy actually. The place was pretty sparse that early and the people that were there looked about as fragile as I felt.
I wandered in to check out Vilifier who are a death/black metal band featuring Queensland and Northern Territory members. They sounded pretty impressive but to be honest they were a bit too intense for my weary hungover state (yes I am a wimp). I did like the skull being worn on the chest of the vocalist though.
Convent Guilt followed playing only their 2nd gig however three quarters of the band were previously in Shackles so they aren't unfamiliar with playing live. They are a different beast to Shackles though and their early 80s speed metal sound was perfect for my hangover. I always managed to see Shackles with a real crap live sound so I was pleased that Convent Guilt had a clear and full sound. Their demo should be out quite soon so keep an eye out here for it. 
I'm not a fan of Chaotic Impurity so I skipped them instead opting to catch up with friends who had similar ideas. Johnny Touch were high on my must watch list of bands and they were certainly worth it with a kick arse set of speed metal/NWOBHM which included underpants being thrown at the band and outfits as amazing as the picture below!
I didn't even notice his boots from the crowd or I would have been even more impressed at the time. They were pure heavy metal and had a great sense of humour with the vocalist having a great time with the good natured heckling. I only later realised that the singer was Pahl who was in Oni and Darklord where his vocals were VERY different. Here is some live footage I found.
As soon as Johnny Touch finished I scurried off down the road to my favourite pizza place which of course didn't have any pizzas ready so I settled for a tasty lamb kebab instead and then made my way back to the Stag in the steadily increasing rain.
I was beginning to think I'd been transported back in time 30 years with 2 speed metal bands and then Hellbringer playing their Teutonic thrash style. But then I remembered I wasn't fat and balding back in the early 80s! Hellbringer are from Canberra however I seem to see them in Sydney more than back home which is a shame as they do kick arse live. Sure the music is highly derivative but I'm not always looking for bands that constantly push the envelope and their brutal thrash went down a treat. The cover of Slayer's Black Magic was bonza too and Luke pulled off the high scream beautifully. The big inverted crosses on stage were a bit hokey but overall they were excellent. Definitely looking forward to their Dominion Of Darkness album which should be out soonish on High Roller Records.
Up next were punk maniacs Kromoson who put on the most energetic set by far with singer Yeap jumping around on stage and on the crowd too. The last time I saw them was on the Toxic Lolocaust tour where they had an incredibly loud screeching guitar sound that was punishing (in a bad way). Chris reminded me of a band called Lebenden Toten who toured a few years ago who had a completely undecipherable wall of noise guitar sound but thankfully Kromoson didn't resemble them this time and sounded great. Even though I know I shouldn't, I continue to compare them to Pisschrist (who also featured singer Yeap) but this time I gained a greater appreciation for their own material (probably because I could decipher it for once). Kromosom generated the only proper mosh of the whole festival (other than some standard meathead moshing for Inquisition) and I think this was mostly due to their very active stage presence (although the fact they were playing hardcore didn't hurt).
Johnny Touch may have had underpants thrown at the band but Backyard Mortuary had a contingent of fans waving signs at guitarist Stuart urging him to remove his pants. He is well known activist in the anti-pants movement and even graced the crowd with a brief view of his bare bottom. This was Backyard Mortuary's final gig but it was more a fun event than a sad one with much heckling from the crowd and of course sign thrusting. At first I was directly in front of the PA and could only hear vocalist Chris which was a bit odd but I moved a bit more centrally and it sounded much better. I'd been listening to their killer new album Lure Of The Occult in the car that morning and it sounded killer live playing all their classics. They will be missed. RIP.
I didn't catch too much of the last 2 bands. The Corps were pretty decent playing a metallic hardcore that was not metalcore with the vocals sounding like a 90s NYHC band. They seemed to go down great with the crowd although it was only 7pm so people were probably just warming up. Grenade were a shadow of their former great self and sounded completely different despite playing the same songs. Not much of a surprise considering 3 out for 4 members had been replaced. Gone was the raspy blacky/thrashy/deathy sound and in it's place was a bog standard death/thrash sound with grunted vocals. The crappy live sound didn't help but I could only last about 2 minutes before heading back into the main bar. I'll stick with my old memories thanks. Backyard Mortuary should have headlined the Sunday in my opinion but it did help me as I could piss off back to Canberra earlier.
After a quick round of farewells I walked through the heavy rain to my car managing to avoid puddles until of course 2 feet from the car where I soaked one foot. D'oh. On the highly unexciting 3 hour trip back to Canberra I stopped at Pheasant's Nest for a dodgy sausage roll and just happened to run into some of the blokes from Canberra band 4 Dead on their way back home from the Sydney Imax. Small bloody world! I also got a nice comment from the checkout chick about my Eyehategod shirt so either she didn't read it properly or she's a blasphemer! (or a stoner or a Charles Manson fan). Thankfully due to my caffiene/energy drink consumption and cds by Enemy Soil, Terrorizer, Magnacite and Repulsion I didn't fall asleep on the drive and made it home before midnight.
Highlights for me were Inquisition, Vomitor, Heresiarch, Backyard Mortuary and of course Mournful Congregation. Cheers to Hushy and co. for putting on such an awesome show. I'll be back next year!
Posted in
Metal Adventures
|
Leave a comment
Mark was absent for this show. Here is the live clip of Lawnmower Deth that we discuss and also some older footage.
Here is some live footage from Evil Invaders 4 of Backyard Mortuary which features the moon by anti-pants guru Stu (sadly not captured properly on film) and also a pic of one of the signs waved. Haha I can see myself headbanging on the left of the screen near the front. Bald spot thrash attack!
Playlist
Amorphis: Thousand Lakes
Napalm Death: Nazi Punks Fuck Off
Backyard Mortuary: Mutation
Darkthrone: In The Shadow Of The Horns
talk break
Alchemist: Purple
Cold Body Radiation: Loss
Martyrdöd: Kollisionskurs Mellan Två Världar
Iron Maiden: Revelations (live)
Murkrat: Plague Gestation
talk break
Negură Bunget: Țara de Dincolo de Negură
Convent Guilt: No Dawn In Lucifer's Light
Therion: Nightside Of Eden
Infinitum: Vexing The Progenitor
Macabre: Zodiac
talk break
Law Of The Tongue: DEvolution
Persecution: Contaminant
Terrorizer: Dead Shall Rise
Lawnmower Deth: Cob Woman of Deth Meets Mr. Smelly Mop
I'm In A Coffin: Finally Happy
talk break
Bolt Thrower: World Eater
Enemy Soil: Direct Action?
Impaled Nazarene: The Horny And The Horned
D.R.I.: I'd Rather Be Sleeping
Anaal Nathrakh: When Humanity Is Cancer
Splattered Entrails: Vanity Of Perversion
Regurgitate: The Pulsating Feast
Regurgitate: Domination Through Mutilation
talk break
Saint Vitus: Look Behind You (live)
Here is my review of the 4th and final day of MDF 2012 which ended up being a cracker of a day! Enjoy.
Day 4 was pretty much doom day with bands such as Saint Vitus, YOB, Church Of Misery and Cough slowing things down dramatically and, based on the amount of shirts of doom bands worn, I assume plenty of fans just came for that day.
Aussie grind maniacs Agents Of Abhorrence were the first band of the day for me and even though I've seen them tons of times I always enjoy their intensity which they certainly delivered today. The crowd were somehow docile at first but quickly woke from their daze and the circle started partly aided by the chicken suit chap and also my crunkmaster friend Big Dawg. I've seen most of the different eras of Agents.. and I think this version is my favourite as Jake is a great singer and the music has, and I hate using this term, "matured" (although the original 2 piece with Max singing was great too). I was a bit sad to only watch 10 minutes but Disma were setting up and I wasn't going to miss a second of them!
Disma's brand of death metal with a smattering of doom is pretty much my favourite style of metal and I've been ODing on their Towards The Megalith album (and demo before that) since it came out so I was beyond excited to see them live. They were on the outside stage which sounded pretty average for Macabre and Napalm Death but I positioned myself close to the stage and directly in front of one of the huge suspended PAs and thankfully the sound was perfect and bloody HEAVY!! They opened with demo track Vault Of Membros which is a slow builder and the still sleepy crowd were a bit sedate but once the pace picked up hair was flying and the pit formed. I went into my usual involuntary headbanging for pretty much their whole set and the riff that kicks in at 4.00 brought the hugest smile to my face. It was bloody hot outside and I probably should have had some water as I felt lightheaded afterwards but I was having so much fun I didn't give a shit about my poor body. This is a band chock full of massive riffs and they continued with second song Spectral Domination which is probably my favourite song. The mid section of Spectral is huge and led to a quite amusing slow-mo mosh. When the double bass bit at 3.02 kicked in I swear my forehead must have been scraping the ground from my deep headbanging. The killer songs continued and they played most of the Towards.. album finishing with Chaos Apparition which was a bit sloppy which they blamed on lack of practice. At the time I wrote my notes for Disma I typed "highlight after Godflesh" and even though I hadn't seen Bethlehem at that stage I still agree with myself as they were breathtaking. Below is a pic which shows me enjoying myself. Just look for the guy on the far right 3rd person up with the receding hairline. Unfortunately the photo is not close enough to show the perpetual grin on my face. Also below is a photo I took of the chaps themselves.
I didn't bother with Cough as I'd seen them twice in Australia recently and, despite having a great sound, their songs bore me with their lack of variety. Demonical were on the next outdoor stage but they sounded both thin and boomy in comparison to the amazing sound they had at Saint Vitus in NYC so I only watched a bit and did a merch run back to the hotel. On the way back I remembered to try and film my usual footage of people walking to and from MDF but my regular seat had been closed in by the fence so I sat on a footstep and ate my lunch and filmed the below footage. Sadly my batteries ran out after a few minutes.
Morgoth followed Demonical and they sounded bloody terrible. I was never much of a fan of Morgoth back when they came out and they were always a C grade death metal band in my opinion but they sounded even worse that I imagined. I think it was a combination of me not knowing any song as well as awful shouted vocals. My German mate Oliver later told me they were one of his highlights so I'm glad someone enjoyed them as I sure as shit didn't. I think I checked out a bit of Rwake but it's getting a bit hazy now and I am writing this after a boozy weekend in Sydney at Evil Invaders 4 which might not be the best idea.
Here is one of the better back patches I saw over the weekend.
Japanese doomsters Church Of Misery played next to a massive crowd and once again that potpourri smell was heavy in the air (I swear I was probably half stoned for the whole festival due to 2nd hand smoke). After the dreadful Morgoth it was great to see a band I liked and they seemed to be quite enjoying themselves with plenty of rock and roll stage moves. After a few songs I wimped it and miraculously found a seat and just listened and drank water. Thankfully they still sounded boss from my seat. I would have killed to see them play Megalomania but I did get Killfornia from Master Of Brutality which was pretty awesome. Born To Raise Hell was killer too. Because of this I totally missed Ulcerate who were either amazing or awful sounding depending on who you talked too. I've never overly cared for their material live so I wasn't worried at all. One amusing highlight for me was when a guy wandered past my seat, reached up and grabbed a leaf on the tree and licked it, and then continued on as normal. Here is some crappy footage from my phone of my spot which sadly doesn't capture the tree licker.
From my seat of wimpiness I listened to Pentagram who I'd had to explain to several people weren't the US doom version but in fact the Chilean thrash version. They were probably the thrash highlight for me as they didn't sound too modern or half arsed and sounded suitable savage. No idea what the stage show was like but I suspect there were several hairy blokes on stage playing instruments and headbanging. Here is a picture of them and what do you know I was right!!!
During this time a friend offered me a drink and I wisely asked for a Red Bull instead of booze. I had been close to drifting off to sleep but thankfully the (no doubt toxic) mix of chemicals in the Red Bull kicked me back into motion and I wandered inside to check out some of YOB. Unsurprisingly it was completely packed inside but YOB sounded fantastic even from right up the back. I did only catch a song and half but in reality that was 25 minutes of their 45 minute set! The Mental Tyrant was the song I caught in full and it sounded incredible. Damn Mike has awesome vocals and his roar is intense!
The mighty Suffocation were next and they proved the equivalent of a second can of Red Bull for me as they are a long standing favourite of mine from the brutal death metal world. Despite starting with a newish song, their setlist was full of classics including Liege Of Inveracity, Pierced From Within and my favourite Suffo song Catatonia. Initially their sound was pretty dreadful as I think Terrance wasn't plugged in but it was fixed in the 2nd song. Singer Frank was in fine form and his crazy between song rants and machine gun blast motions are always highlights. One classic line was "I love me some guns and I love me killing some people". I think a future career for him once Suffo are done would be to do a standup routine of his rants and then sing along to their songs with a backing tape. I'd pay money to see that! As imagined the mosh was pretty crazy for these guys and I delighted in seeing pieces of a plastic viking helmet being flung around for half the set. I missed the last 3 songs as I wanted to catch some of Nausea and as I suspected I did miss Infecting The Crypts which was a bummer but I'd seen them live before. Here is some live footage I found of 2 of the songs I missed.
The Suffo/Nausea clash was one of my worst but I'm glad I did end up seeing a bit of each as both bands ruled. Nausea was the Los Angeles version with Oscar from Terrorizer and I had to see some of them as new guitarist Leon del Muerte told me they were going to play some Terrorizer songs live and their World Downfall album is one of THE grind masterpieces. I did end up seeing Corporation Pull In which was damn cool but not Dead Shall Rise which I prayed for. But it didn't matter as they sounded nearly the same as Terrorizer and their own songs were nearly as good.
Up next were legends Saint Vitus who I've never been a massive fan of on cd but live they were way better than I expected. This was another band I watched with a group of Melbourne doombogans and we had a great boozy time standing near the hamburger griller. The setlist was essentially a split between their classic album Born Too Late and the new album Lillie: F65 with a few other tracks including the killer song I Bleed Black which had a beautifully crazed solo from Dave Chandler. Look Behind You was another song highlight for me. They had a suitably swirly and trippy background being projected and a great live sound with Wino's vocals a standout. Part way through it started to rain which led to wimps scrambling to get inside but my trusty Akubra hat kept my face dry. All hail the rabbits that went into the creation of my hat!!! I eventually succumbed to the wonderful smells coming from the grill and ended up scoffing a hot dog and a hamburger. Cooling rain, quality doom and questionable food – what more can a man ask for?!?!?!
I actually saw Vitus sitting in the airport the next day and couldn't resist being a fanboy and telling them how much I enjoyed their set and that they should come to Australia. They looked genuinely pleased to be interrupted by some seedy looking guy in a Mister Sparkle shirt and I'll treasure the smile I got from Wino as he usually looks like such a hard bastard.
After Vitus finished pretty much everyone in the crowd just turned around and marched up to watch Electric Wizard. A chant of "fuck umbrellas" rose after a few people dared to wimp it with the rain (should have brought a hat!). Wizard started with horribly peaking speakers but the sound calmed down after a bit and they rumbled along as usual with Supercoven, Satanic Rites Of Drugula and Dopethrone opening the set. I do like E Wiz quite a lot but they were a bit of a come down after the stellar Vitus. Also when they toured Australia on the We Live tour I was really intoxicated and enjoyed them immensely and this time I was soberish and with sore feet and the magic wasn't quite there. Part way through the set I went for a beer and luckily found a seat and listened to the rest as I realised I would need to be able to stand for Bethlehem. While sitting I decided to be a bastard and texted my mate Josh back in Australia to gloat. I had done the same thing to radio cohost Jonesy during Godflesh and would do the same to radio cohost Mark during Bethlehem. Damn I'm a prick! They finished off with Funeralopolis which was killer but overall I was a tad underwhelmed.
Sargeist got the arse in favour of rest but I was back and keen as a bean for Bethlehem who, along with Godflesh, were a main reason for my attendance. The place was half empty I'm assuming due to the last 3 bands being black metal but that was fine by me as there was more space and I secured a perfect position just behind the mosh. Yes I did say mosh as pretty much every band garners some kind of pit at MDF although Bethlehem's was both hilarious and nasty looking. Hilarious due to the sudden shifts from fast black metal to mellow bits which people continued moshing hard through and nasty as it was the most spiteful and violent mosh all weekend. I really wasn't sure what to expect from them as they'd only recently restarted playing live after a 15 year gap but the music was flawless with an amazing sound and spot on playing. The guitarist played every solo and mellow bit perfectly and the rhythm section was tight. Another main concern was the vocals as they were mostly playing older material from the Dictius Te Necare and S.U.i.Z.i.D. albums which are notorious for having extremely over the top vocals. The new guy was Rogier from Dutch black metal band Weltbrand who I'm not familiar with and he did an "acceptable" job of imitating Landfermann and Kehren. I won't say great as he didn't excel but he did put plenty of effort in and certainly didn't detract from their performance. I am certainly glad though that we didn't get that Kvarforth tosser from Shining on vocals!!
Bethlehem used the haunting song Laura Palmer's Theme from the amazing Twin Peaks soundtrack as the intro music which was perfect and made me even happier. They opened with two slower songs from Dark Metal (The 11th Commandment and Vargtimmen) and I was surprised that they didn't play Veiled Irreligion considering it's a great song. As soon as the opening fast riff from Aphel – Die Schwarze Schlange kicked in the crowd went berserk and my smile grew to ridiculous proportions as it's one of my favourite songs. Sadly the heavy chugga riffs didn't sound quite chunky enough but the schizophrenic changes between fast screaming black metal and mellow soft bits worked perfectly. The mournful guitar lines towards the end of the song were complete bliss. Du Sollst Dich Toten from the S.U.i.Z.i.D album was another highlight as we play it on radio all the time and it was beautifully followed by Gestern Starb Ich Schon Heute as per the album (damn these blasted Jerrys and their stupid long titles). The only vaguely recent song they played was Maschinensohn from the Schatten… album which was a shame as I am in the minority of fans who also love their more recent and less insane albums. I would have loved to have heard something off Mein Weg such as Dr Miezo or Einsargen but I doubt the vocalist could have handled the singing parts (plus the crowd might have lynched them). They ended with a couple more Dictius.. songs and the final song was another favourite in the form of Verheikung – Du Krone Des Todeskultes which was a suitably deranged song to end such an awesome set with.
The band were nice enough to put half their set on YouTube with soundboard quality audio so I've posted them all below for your enjoyment. Watching them myself they certainly don't really capture the sheer brilliance and intensity of their performance but I'm glad some attempt was made to document it. If you ever get the chance to see Bethlehem live then take it!! Quite simply for 50 minutes I was completely spellbound.
Unfortunately for Mortuary Drape they followed Bethlehem who had completely blown me away so I was still on a high and also exhausted from 2 weeks of metal gigs and excessive boozing so I bailed early. I did stick around and watch 2 songs and felt guilty when I skulked away as they sounded really impressive and under easier circumstances I would have definitely watched them. Funnily enough I actually caught the shuttle bus to the airport with Mortuary Drape and they seemed quite pleased that I recognised them (2 members look exactly like Chris Reifert and must be brothers) and told them they sounded great. I neglected to mention that I only saw 2 songs.
After bailing on Mortuary Drape I said goodbye to plenty of friends but missed plenty too and also snapped the below pic as a final memento. No doubt the next day the road was back to normal with few signs remaining of the huge amounts of fun times had, other than maybe a snoring metalhead sleeping off a hangover in the car park. Thanks a million to organisers Ryan and Evan who once again put on an amazing festival full of bands I thought I'd never see live. You blokes are champions!!
The next day I successfully packed all my merch buys into my suitcases and began the loooooooong journey back to Australia. The less said about the trip (and my poor organisational skills) the better but after 34 or so hours I was back in rather chilly Canberra with my darling Ann, our cat Sierra and a strange feeling that the last 2 weeks had been a dream.
Posted in
Metal Adventures
|
Leave a comment
Here is my review of the third day of the 2012 Maryland Deathfest. Enjoy.
I missed Infernal Stronghold but I made sure I was on time for Bloody Phoenix as I love their 2 albums as well as previous Excruciating Terror material. I don't know too much about their band members so I was quite surprised when 2 rather attractive latino women jumped on stage and started growling and screaming. It was only 1.15pm so the crowd was a bit sparse however I think the vocalists garnered some attention from the mostly male crowd. But distractions aside, Bloody Phoenix kicked as much arse as I expected and their hardcore grind sound was blistering with little let up between songs. Half an hour flew by and I really enjoyed their set and below is some crappy footage I shot. Between bands I sat down and was rather surprised when I heard the crowd singing along to the Ghost song being played over the PA. I guess their songs are pretty catchy.
Looking For An Answer were one of my most anticipated bands of the fest as I love their straight forward grind attack and I was not disappointed at all as they were INCREDIBLE. For some reason the Nashgul guy was singing for them but he sounded very similar to the usual guy and did a great job (they also had Dave from PLF sing a song or two). They had the perfect combination of chunky riffs and fast grind which was beautifully shown with the tracks Marcha Hacia La Extincion and Extincion with the start of Marcha.. and mid pace middle of Extincion whipping the moshpit into a frenzy. They were the grind band of the festival for me and could ramble on for pages about how great they were. Here are a few clips which as usual doesn't really capture the intensity but they're better than nothing.
Dragged Into Sunlight were next and there seemed to be quite a lot of buzz about them beforehand. I have one album and it's never done a huge amount for me but they certainly received a rapturous response. I actually walked in after they'd already started and was quite surprised by the whole spectacle which included an candle/skull structure on stage (see the pic below), brutal strobe lighting, a harsh overall sound, faster than I expected and strangest of all the band seemed to be playing with their backs to the crowd. I'm sure they have a reason behind it but it looked pretty wanky to me. They were another in the line of "I wish I knew their songs better" bands so next time I'll have to listen to the unknown bands more. Their fans seemed very happy with the performance and I enjoyed it and plan on listening to their material a bit closer.
Hellbastard were first on outside and they started with an air raid siren and the singer breathing fire which of course I missed as I wasn't watching (D'oh!). I saw the best photo of it somewhere but can't find it so I'll put this one from Rev Aaron up and update this post if I can find the better shot. They played some pretty damn decent metal crust and even though I didn't know any songs I quite enjoyed them. I seem to recall the singer was pretty funny between songs.
Black Witchery were next and sadly suffered from either crap sound or me standing in the wrong spot. They looked the part with hoods and corpse paint and thousand yard stares but with the shit sound it was just a blender of distortion with a crap drum sound coming through. I was standing with my mate Justin who had seen them tons of times and he agreed that it sounded awful. I gave them a few songs which could have been anything and then left the rabid crowd to their fun.
As Black Witchery sounded like poo I decided to head back to the hotel and go for a swim as it was bloody warm. I wanted to cool down and I certainly did as there was no direct sun on the pool and it was unheated and thus freezing! But after a few minutes I equalised and it was super refreshing. I floated there totally relaxed and nearly meditating but then looked up and saw tons of Reeelapse mates descending upon the small pool with their bottle of iced tea mixed with vodka and several cigars. I'm quite certain the young lifeguard had absolutely no control over the pool area and many rules were broken. But it was good fun and I learned quite a bit about cigar rolling and fancy fortified wines. Best of all it cooled my body down nicely and helped my ailing footsies and I felt great for several hours afterwards.
Here's a few random pics I took during the day of the Mercyful Face face painting booth in action (which led to some truly hideous looking people) and also one of the best backpatches I saw of The Heartbreak Kid Shawn Michaels from WWE.
I headed back down to the fest about 6ish and caught about half of the set by The Devil's Blood who sounded bloody fantastic. They were probably the most different sounding band at the fest as they are essentially a rock band but the crowd loved it and I was a bit sad I missed their set in New York with Evoken and co. They had 3 guitarists for some reason but the sound was spot on and the mellow trippy bits sounded great. Most of the band were pretty animated but the singer pretty much just stood there waving her arms and flappy sleeves about in a Messiah Marcolin imitation.
I caught a song of Deviated Instinct as they finished which sounded pretty good but I suspect they would have been much better on a small stage instead of a huge outdoor one. They were quickly followed by Anvil who quite frankly sounded AWFUL! I only watched 2 songs and one was an intro sort of song but the sound was thin, the guitarist buggered up the solos and the only thing they had going for them was the ridiculously happy look on the guitarists face. I'm sure that Anvil fans would have loved them but I quickly scurried off to watch Finnish legends Archgoat who seemed to take forever sound checking. They were already corpse painted up but once they got their sound right they wandered off stage for about 10 mins and returned with some added blood smears that surely would have taken a minute tops to apply. However once they started I was glad they took the time to get the sound right as they sounded as thick and heavy as they should. No idea what songs they played but it all sounded damn fine to me. However part way through their set I needed to…..er….."sit down" rather rapidly so instead of venturing into the no doubt disgusting portaloos I hiked back up the hill to my nice clean hotel bathroom while unfortunately listening to more Anvil. Possibly a bit of overshare there so apologies in advance to my more precious readers.
After a bog and a quick game of Sudoku I returned to watch technical doomsters Confessor who I've loved since I first heard their Condemned album despite most of my friends hating them. I was a bit worried that it wouldn't translate well live but thankfully my fears were unfounded and they kicked arse. I missed the 2 newer songs they started with which suited me and the remainder of the set was from Condemned. My main concern was his voice but it sounded perfect and he effortless did the really high scream at the start of Suffer. I sang along (not quite as well I'd imagine) and was surprised that I knew so many lyrics after all these years. It was a strangely dead crowd watching them as it's not exactly moshing music but that didn't stop about 3 guys from seperately starting one man mosh pits which was amusing to watch. Another odd sight was a really skinny African American guy with his face painted with corpse paint wandering through the crowd picking up rubbish. The only downside was that the smoke machine regularly obscured my view of the drummer as I wanted to watch his technical prowess. Bloody good set from a band I kept forgetting was on the bill. Here is a pic of the rubbish guy and also one of the ridiculously over the top sandwich I bought from the deli in the hotel which had half a bloody pig on it!!
I saw about a minute of Horna who were playing pretty decent rockish black metal but apparently I missed quite the spectacle when the singer baptised himself in his own piss!! Those wacky Fins! Lucky Noothgrush who were on the stage after Horna. I pinched the below pic of the baptism from Brooklyn Vegan.
Haha during the day these people fell asleep in the middle of the fest and so of course they were drawn on with textas and many photos taken. Now that I look at the pics I recognise them from the pool earlier on! Reminds me of an old Metal For The Brain festival in Canberra where legendary stagediving maniac Scott Foster fell asleep with a mate and for several hours they were both covered in tanbark and rubbish.
One of things I like about MDF is the variety of bands which was very evident with the contrast between trad doomsters Confessor and groove death metal maniacs Brujeria. There was a fun, party sort of atmosphere for everyones favourite Mexican drug dealers with Mexican and El Salvadorian flags flying and that familiar herbal smell was in the air. The identity of Brujeria is hidden by scarves and they rotate lineups but I could work out most of them. Shane Embury was unmissable with his clown hair and Nick Barker was drumming as I'd seen him the day before watching Macabre with Napalm Death members. I thought it was Jeff Walker and when the drummer played the intro to Corporal Jigsore Quandary it was confirmed. I looked them up and the other guitarist is the Napalm Death soundguy and the 2 vocalists are the usual members. Unfortunately they had a pretty average sound and also played too much newer material (ie. songs not on Matando Gueros) but it was still great fun. Some dickheads near me were shouting out "speak english or die" which I didn't think was the greatest idea but they survived (although I doubt they would have repeated the call from the mosh pit). Part way through the set Barney from Napalm Death wandered through the crowd right near me but I resisted my inner fanboy and didn't yell "let's see everybody skank" at him. They finished with the classic song Matando Gueros which had the whole crowd singing along and Juan Brujo brandishing a large machete which he whacked again the foldback.
Towards the end of Brujeria I wandered inside to check out some Noothgrush who I would have loved to see more of as they were playing some awesomely punishing sludge. On cd they've never quite clicked for me but live it sounded great and new vocalist Dino (Ghoul, Dystopia, etc) fit in perfectly. I was later told by several people about several of the Sydney Aussies dancing up a storm which I later witnessed repeated for Winter. Nice work lads and here is a picture of one of them.
After Brujeria every person at MDF crammed in the space in front of the far stage to watch Morbid Angel who headlined Saturday. I could feel it in the air that most people wanted them to play some of the terrible "industrial" songs from their Illud Divinum Insanus album just so they could boo or abuse them. But the closest we got to that awful style was the intro tape which had to be looped for 40 minutes while the guitar techs tried to fix Thor's amp. Confessor had finished an hour earlier on that stage so I don't know what they hell the techs had been doing all this time but it meant Morbid had to cut several songs from their set (including Dawn Of The Angry which I really like). But once they finally started they were on point and the opening salvo of Immortal Rites and Fall From Grace dispelled all whining. After more A – C material they did play 2 songs from Illud.. but they were just the boring death metal ones instead of the techno monstrosities. The bad taste they left was forgotten when they launched into Lord Of All Fevers And Plagues and hands were raised, heads were banged and chants of Ia Iak Sakkath were everywhere. My bliss was further extended when the launched into my favourite song Chapel Of Ghouls and I think I nearly fell over headbanging to the "demons attack with hate" section. During the 2nd last song Trey's guitar was on the fritz so he just walked off stage and didn't return. Surely he had a spare guitar! They ended with World Of Shit which sounded pretty flat without Trey's spazzy solos but it was still an awesome set. Evil D…I mean Dave Vincent didn't spout as much crap between songs as when I last saw him in Sydney but that was probably due to the time constraints. One amusing incident during the set was when a guy wandered out onto a freeway and was watching the crowd from there. After the police helicopter flew over it was only a few minutes before there were 4-5 police cars there and the bloke was removed while a cop took photos of the crowd who were either giving them the horns or their middle fingers. I watched with a group of drunken Aussie bogans which was great fun and I seem to recall Captain Morgan made an appearance in my stomach.
The same group of bogans waylaid me after Morbid Angel and we walked up to Sidebar which is a few blocks away for some more boozing. When we arrived there was a band setting up called Skelptarsis so I got a round of drinks and we watched a few songs of very loud hardcore and they were bloody great. A real shame they weren't on MDF. I think a few Aussies enjoyed them so much that they stayed for their whole set. Not me though as Spanish grinders Haemorrhage were due on stage!
By now my memory is getting a bit hazy due to rum but I did watch all of Haemorrhage and they were really good fun. The singer is one amusing and charismatic bloke and he really adds a lot to their stage presence as he stalks around the stage shirtless and covered in blood with a deranged look on his face (I'm sure he's a really nice guy in reality). They played a good range of songs including my favourite Mortuary Riot as well as several from my favourite album Apology For Pathology. One thing I was really surprised about was the lack of a party brigade assault with no glowsticks or blowup toys to be seen (just the ever present chicken guy and my friend Vanessa in her hot dog outfit). I suspect the MDF organisers were sick of cleaning up hundreds of glow sticks or maybe the brigade didn't get their shit together. Haemorrhage still kicked arse but I think Looking For An Answer won the Spanish grind trophy of the weekend.
Winter finished the night and honestly putting such a slow and heavy band at the end probably wasn't the greatest idea for drunken and sore idiots like me so I only lasted a few songs. They were very impressive though and sounded as heavy and punishing as their classic Eternal Frost album which it appears they played in it's entirety. I was hoping to see the song Eternal Frost as it's my favourite but my poor feet were screaming at me so I departed. I really need an anti-gravity suspensor like Baron Harkonnen from Dune so I can be suspended above the crowd and get a great view while resting my feet (and maybe some Sardaukar to protect me from the dodgy Baltimore streets). Before I left I also saw the identical triplets who seem to go to each MDF and they looked pretty hammered. It was amusing as they were walking in a row and each one seemed more drunk than the last. On the walk back to the hotel I ran into my mate John from Melbourne who informed me he'd just been bitten by a police horse when he tried to pat it. Nice work mate!
So somehow I survived the first full 12 hour day of MDF and saw some killer bands. A bit of shame I missed Morbid Saint (heard great things about them), and most of Horna, Noothgrush, and Winter but there was swimming, drinking and slothing to be had in their place. I went to bed exhausted but really looking forward to seeing Disma and Bethlehem the next day and I certainly wasn't disappointed.
Day 4 coming soon……
Posted in
Metal Adventures
|
5 Comments
Here is my review of the second day of the 2012 Maryland Deathfest. Enjoy.
Due to the super comfy beds at Tremont Plaza I had enjoyed a decent sleep and thankfully was not awoken by drilling outside my room at 8am like last year. As usual I had forgotten to drink water the night before so I had a bit of a hangover however I felt better immediately once I remembered that I was going to see Godflesh tonight!!!
However the day didn't begin as usual with me stuffing merch into my shorts pockets or listening to screaming metal – first up we had ourselves a PARTY BUS!!! Friends from the Reeelapse message board that I post on had arranged to hire a party bus to travel around Baltimore for a couple of hours before dropping us off at MDF just as day 2 started at 3.30pm. This of course involved lots of booze and dancing to Lil Boosie but, being a shy and modest chap, I only indulged in the booze. I had planned on taking it easy on the turps as Godflesh played that night and I travelled 20 something hours to see them but I still ended up having 5 or so beers and several swigs of vodka and other assorted booze. We drove through some pretty scummy looking areas of Baltimore so it was nice to see them from the comfort of a bus. The whole experience was hilarious and great fun as half the bus seemed to still be drunk from the night before or suffering from severe hangovers while several danced away and tried not to spill grog everywhere. The main dancing maniac was the Big Dawg himself and his moves are as legendary as his 69ing skills. See below for a pic of my own personal dance that I received from him. We stopped at a house for a yummy bbq lunch (thanks Shelley and Chad!) and then piled back in for a return trip to MDF where we received some odd looks when we disembarked. A grand time was had and I have a new found appreciation for the lyrical genius of Lil Boosie. Plick!! 
I think I watched some of openers Castavet as I have a note in my phone reading "sludgy black metal" but it's a bit of a blur after the party bus hijinks. I also skipped Nashgul mainly because I didn't trust the indoor sound and also they had been really awesome in New York a few nights earlier and I didn't want to spoil the memory. From all reports they were great but I am more than happy to remember the intensity of the New York gig.
Ghoul were the first band I watched completely that day and I'm glad I did as they were so much fun! 2 nights prior they'd crammed onto a tiny stage in New York and still managed to use all their props but on the huge stage at MDF they had plenty of space and a much bigger crowd to cover in blood and baby guts. At MDF 2007 they'd been one of my highlights and they didn't disappoint this year as they plowed through their skate thrash classics. The Mark Of Voodoo had Baron Samedi come out and rip the head off a chicken and shower the crowd in blood as can be seen in the great shot below from Rev Aaron from Return To The Pit.
Rise, Kill-Bot, Rise!!! featured the Kill-Bot itself on vocals, blood spraying and band assaulting duties and part way through a caveman creature with a mace for a hand engaged in a fight with it. Sadly I can't find a picture of the fight but this one will do.
The first outdoor band of the fest were Finnish death metal legends Demigod. I'd read excellent reviews of their performance at the Rites Of Darkness III festival in 2011 and I LOVE me some Scandinavian death metal so I eagerly positioned myself to watch. Their sound was somewhat arselike at first but it quickly improved and they sounded heavy as hell as they blasted through the setlist which was only songs off their Slumber Of Sullen Eyes album. If you aren't familiar with this album and like death metal then I strongly suggest you check it out as it's awesome. These chaps certainly know their melodies and combined with their heavy riffing and occasional doomy section meant they were something of a thinking mans crushing warmachine. Great performance and I'd kill to see the same set in a smaller, more intimate club. I did nip inside to check out a bit of Today Is The Day and was lucky enough to see a song I actually knew from the In The Eyes Of God album. They sounded pretty kick arse and as harsh as I expected but those vocals still shit me and I could only take so much. Plenty of people told me they were one of the best bands of the day but I was happy to have seen Demigod in their place. Here's some footage I found of Demigod on YouTube that doesn't really do them justice.
While waiting for Macabre to set up I noticed this fine chap standing behind me so I asked for a photo. For a few years now I'd admired his work in the mosh pit of pretty much every band (he's hard to miss) and also his dedication to wear such a warm outfit in the hot Maryland sun. Also note the quality beard on the bloke behind him. The beard of the festival in my opinion although Pete from Whitehorse is no slouch in the facial hair department.
Macabre was my first experience of standing on the hill around the corner from the far stage and as such they sounded like complete arse. I wasn't too fazed though as I wanted to get some snaps with my camera and I know all their songs well so my memory could be called on to improve the sound. Corporate Death had his trademark overalls on and Nefarious was looking way balder than me so I was happy. They opened with Dog Guts from the excellent Dahmer album and the crowd went wild. I had a great view of the pit and it was pretty active. They played a song off the new album which was bloody terrible but made up for it by following with classics Nightstalker and McMassacre. One more crappy new song (why couldn't they play The Black Knight as I like that song) and then it was purely classics which made me happy. During their set Kait noticed a guy standing near us with a baby dolls leg hanging out of his pocket. She of course asked him about it (due to alcohol I can't remember the reason) and snapped this pic of him. Unfortunately this photo doesn't show that he was missing most of his front teeth. Seemed like a nice chap though!
Corporate Death had his usual trademark intros and we had great fun watching the faces of the security guards while the horrible murder details were outlined. During the intro to Albert Was Worse Than Any Fish In The Sea, Albert Fish himself came onto the stage and was then beaten by a young woman which was great fun. The Zodiac killer also made an appearance for his song and stalked around pointing guns at the crowd. Despite the crappy sound I had a great time watching them and the crowd loved it too. I'll definitely be seeing them again in a few weeks on their 2nd Australia tour.
I've never been much of an Artillery fan and after MDF I'm definitely not a convert. I watched a couple of songs when they started but the spark was missing that's needed for thrash bands and I wandered inside to watch some Negura Bunget. The first thing I wrote in the note on my phone was "lots of hair" however they were much more than that and sounded pretty bloody nifty actually. I'm not too familiar with their albums so I've no idea what songs I saw but they had a great sound and the crowd were loving it too. Much like Agalloch I wish I had known their music a bit better as I would have probably enjoyed it more. However my mighty belly was rumbling so I stumbled back out into the light and queued for some pizza while trying to ignore the way too modern sounding Artillery (it didn't work). After basically subsisting on a diet of pizza slices and Snapple in New York I received a shock to the system in Baltimore with no Snapple to be seen and some pretty average pizza. However the party bus experience had given me an excellent drunken hunger where anything was satisfactory so several pieces of surprisingly fresh pepperoni pizza were purchased and I made my way to the far stage to check out Napalm Death.
I was back on the hill around the corner for Napalm Death which ended up being quite a mistake as their sound was abysmal from that angle. The last few times I've seen them I have not liked their sound as the guitar has been too distorted and tinny and raw sounding and this time was no different with the terrible contrast of screechy guitars and triggered clicky drums. Barney was in fine form though with his usual epilectic fit style on stage but when he announced they were going to play a song off each album I immediately remembered the dreadful Words From The Exit Wound era and suspected there'd be few classics played that night. Here is a photo I took that probably looks like it's supposed to be stylish and arty but in reality I didn't have quite enough light or a steady enough hand.
Being an old geezer I wasn't so keen on the "every era" idea so after a few new songs I struggled through the squishy crowd and finally made my way to my spot for Godflesh. I could still hear it well and enjoyed the classics Deceiver and Unchallenged Hate as well as Dememtia Access which I hadn't heard live for ages (if ever). They sped through Suffer The Children at warp speed as usual and thankfully didn't play the awful pop song Greed Killing. I did note that they didn't play The Kill which I thought was a travesty as it's a total classic and only goes for 15 seconds! Scum got an airing as expected and I was pleased to note that Danny Lilker was bought onstage to guest on bass for it thereby continuing the tradition since 2007 of him playing every year in one or more bands. They finished with 4 songs from Scum which I found most amusing considering none of the current band were on that album and also the guy that did co-write and perform those songs was about to play next in Godflesh!
Godflesh were one of the main bands I came to see and I certainly wasn't disappointed as they were amazing! I got in position early and was right next to the mixing desk along with some fine Sydney folks and my mate Mike from Buffalo. While setting up Justin asked for the bright light above the stage to be turned down only to be told by the bemused sound tech that it was a street light. He later jokingly asked for it to be removed. They kicked off with Like Rats from Streetcleaner and the smile on my face must have been huge and didn't let up for the next hour or so. Below is the setlist which focused mainly on older stuff for the first half and then worked it's way up to Selfless era. I was a bit surprised they didn't do anything from Songs Of Love And Hate.
Life Is Easy worked surprisingly well live as I've always found it a touch depressing on the album and Tiny Tears following was a nice pick me up. One amusing thing I noticed during their set was a completely shitfaced woman who was having a great time grabbing and jumping on her boyfriend/some random bloke and generally acting wild. It's always fun watching the people surrounding a person in  drunken nightmare mode and several bystanders looked ready to kill. The highlight for me was probably the 3 songs from the Pure album with Mothra and Pure sounding massive! Justin admitted there was no time for an encore so they finished off with Slateman which is from my favourite era of Godflesh so I was stoked. I reckon the song Slavestate would have been better and I would have killed every person in the festival with a plastic spoon to see them play Perfect Skin but I was still very happy to get Slateman. Godflesh were simply awesome and their performance was everything I hoped for and more.
I planned on watching Unsane but after in the intensity of Godflesh I needed rest so I headed back up the hill and collapsed into my bed to rest my very weary feet. While lying there struggling to retain consciousness I debated about heading back down to see Nasum. They are touring Australia in August so the temptation to succumb to sleep was high, however I watched some recent footage on YouTube which sounded great and I decided to get my balls out of my handbag and check them out. I'm really glad I did as they were kick arse live with Keijo from Rotten Sound filling in on vocals for Meiszko (RIP) and doing a stellar job. The place was completely chockers but I had a decent view and slowly wormed my way forward as wimps and posers left the hall. I couldn't see the mosh but I was quite certain it was raging hard. I would have killed to see the song Silent Sanguinary Soil live for that opening riff but I was more than happy seeing Shadows and Corrosion back to back which are two of my favourite Nasum songs. A great end to the night and I'm eager for the Australian tour. I scurried back up the hill to the hotel, Skyped with my darling Ann and then fell into bed and slept off the party bus and Godflesh extravaganza.
Day 3 review coming soon….
Posted in
Metal Adventures
|
2 Comments
Well folks I'm now back home in Australia after a whirlwind 2 and a half week tour of New York and Baltimore which was BLOODY AWESOME!!!! This is the first of 4 reviews from Maryland Deathfest (MDF) with one for each day of the fest. I had intended on writing these while at the festival but I was either too drunk or exhausted to write much more than basic notes on my phone. Plus I'm an old coot and needed sleep. So here we go with Day 1 of MDF 2012. Enjoy.
My trip from New York to Baltimore went smoothly and I caught the train with a mate from New Jersey and had good discussions about Relapse Records signings, US politics and all the kick arse bands he'd seen that I hadn't. I quickly set up in the Tremont Plaza hotel and after a spot of grocery shopping I strolled down the steep street to the Sonar Bar where MDF is held. Once inside I managed to buy an Eyehategod shirt in 2 minutes which I think is some kind of merch buying speed record for me. It was the first of MANY shirts I bought (My name is Geoff and I'm a shirtaholic). Tonight was only the indoor stage only which meant there were less people than a full day which was nice as it gets bloody squishy.
First up were locals Extermination Angel who played an old school death metal style. The singer looked a little odd with sunglasses, a sort of afro hairstyle and spiked gauntlets and a guitarist had bullet belts, chains and other metal garb but the rest of the band looked normal. I always find it amusing when only part of a band dresses up and it looks especially hilarious in black metal bands with only half wearing corpse paint. They weren't bad at all and I liked the singers vocals but overall nothing too memorable.
Aussie goregrinders Die Pigeon Die played next and were basically Jack from DPD on vocals backed by New York band The Communion. I'd seen this lineup a couple of weeks earlier in New York and at both gigs their gory grooves went down a treat. This was about the third incarnation I'd seen of DPD and honestly I prefer the previous version with Jack on guitar/vox, his brother Leon on bass/vox and blastmaster Christoph on drums as their set at the final Arthouse grind gig was simply stunning. However this version were very impressive with only a few weeks of jams and the ever present circle mosh began. Jack was doing dual vocals by holding two microphones with different pitch shifters attached and they also used several samples to great effect. Sadly they were the only goregrind band of the fest but I certainly got my fix of gurgle vox, detuned guitars and GUT-style drum beats.
Needful Things followed and I was keen to czech them out (*groan*) as I had missed their Australian tour. Sadly their sound was shite and the snare was barely audible so they totally lacked the punch needed for grind. I only watched half their set because of this and left disappointed.
Hardcore legends Rorschach were up next and I was surprised at how heavy they sounded. The weird rapsy vocals took a bit to get used to but the music was top notch and really reinforced the widespread belief that Converge and other metalcore bands had been ripping them off for years. Their cover of King Crimson's 21st Century Schizoid Man was really well done too. I also noticed during their set to my surprise that the guy in front of me had an Armoured Angel backpatch on his jacket which made me nostalgic for home. Nice work son!
Dying Fetus followed and unsurprisingly the mosh pit got very hectic with their opening song Praise The Lord (Opium Of The Masses). Just watching the mosh kept me highly amused for the whole set as it was filled with dickheads galore including the flailing pit ninjas, the usual idiot-that-runs-the-wrong-way fools, the ever present guy in the chicken suit (not a dickhead – in fact a true hero), one huge shirtless guy I nicknamed Andre The Giant who just stumbled around smashing into anyone near him, and best of all some odd guy I nicknamed Rocky who for most of the set stood there with both arms raised. Below is some footage of their last song Kill Your Mother / Rape Your Dog which I shot from the side of the room. Their live sound was better than you can hear on this clip and they were super tight although I still want to see them play Intentional Manslaughter before I die.
Absu sadly suffered from a really shitty, muffled sound and paled in comparison to the Sydney gig they played with Portal back in January which had been stellar. Proscriptor seemed distant at MDF however it might have been the huge stage he was at the back of. Also I did read that they pulled out of the Chaos In Tejas festival a week later Proscriptor had an infected knee. A highlight was watching an Australian mate doing air bagpipes during the song Tara.
Next were Eyehategod who were in superb form and the band of day in my humble opinion. They'd played on an outdoor stage at MDF 2010 which was amazing but this set was somehow another level of awesomeness even though it contained plenty of the same songs. I think it was helped that I was standing with heaps of Melbourne folks who love their doom (and booze) so we were having a grand time with many a doom claw raised in honour of the excellent performance. After the Absu debacle, the sound for EHG was spot on with their southern sludge coming through perfectly and singer Mike in fine form and thanked the crowd several times for their praise. My favourite EHG song Dixie Whiskey received an airing so I was loving it. As expected during EHG there was quite a strong smell of a certain herb being burned which persisted for most of the fest. In fact during several indoor bands I could have sworn somebody dumped a pound of weed into the airconditioning system and set it on fire as the smell seemed to linger for ages despite the fans blowing heavily. Here's some footage I found on YouTube of the song $30 Bag.
Sandwiched strangely between sludge gods EHG and death metal legends Autopsy was nice folky black metal band Agalloch who I regret only seeing 2 songs of as they sounded great. But by now the booze was kicking in and soon enough I was off being a social butterfly and vaguely remember chatting to some blokes from Las Vegas.  The 2 songs I watched they were older ones and apparently You Were But A Ghost In My Arms had never been played live before so I feel a bit guilty that some of my mates who worship Agalloch missed it.
Headlining the first night were the mighty Autopsy and this was my third year in a row seeing them live. I think by now I'd been given a dreaded Captain Morgan rum and coke however it didn't come back up and I was nicely tipsy and ready for excessive headbanging. Only problem was they didn't start playing until 40 minutes after their designated start due to technical dramas with Danny's amp which meant they didn't get to play the last 5 songs of the setlist which were all from Severed Survival which was a bummer. They started the same as MDF 2010 with the 1, 2 combo of Twisted Mass Of Burnt Decay and In The Grip Of Winter and I was ecstatic and having a killer time. After another couple of classics, they aired some newer material which to tell the truth dragged down the momentum of the set a bit. I do like the new material and it sounds great live but 4 songs in a row seemed a bit much to me. One of my favourite songs Dead got an airing next and woke me up as I involuntarily screamed the lyrics but 2 songs later they were mid way through Voices when the PA was cutoff as they'd reached the 2am curfew so they amusingly continued playing through their amps and finished the song. Here is footage of that song and the crowd enjoying themselves.
Below is a photo I had taken the next day with Autopsy guitar legend Eric Cutler. I was hoping for a photo with Chris Reifert to make it three years in a row but I didn't see him. However on the Friday I was sitting down checking through my photos and Eric was talking to a woman next to me so I fanboyed it up and asked for a pic and told him to bring Autopsy to Australia. Haha the chicken suit wearing maniac is posing in the background for another pic!
On the walk back to the hotel after 2am I met a bloke from the Nuclear War Now! message board who had unfortunately just been robbed at gunpoint about a block from the gig. Thankfully they didn't hurt him and only took cash but the poor fellow wasn't too happy and I made sure I passed on his sombre story to anyone I met as plenty of my friends were in different hotels and some wandering around by themselves. There was one bright point though when he told me that he likes reading this blog so thanks for the patronage Chad and I'm glad you survived the dodgy wasteland that is Baltimore!
I managed to drink quite a bit but not too much and had an awesome sleep as the bed was about 20,000 times better than the crappy NYC hotel bed plus I didn't have sand blasting of the building across the street waking me up at 6am. Day 1 was quite the success with my highlights being Eyehategod and Autopsy which doesn't really surprise me too much.
Stay tuned for more reviews…..
Posted in
Metal Adventures
|
1 Comment
I was not present for this show however I was listening online. Normally I would have stopped the other 2 idiots from rambling on so much about cars but even after whinging via sms they continued crapping on. When I'm there this is the only car we're allowed to discuss (and maybe the other car behind it).
Also to date Mark still hasn't received the amp he ordered from overseas that he rants about in this show. Poor fella.
Below is the flyer to the Evil Invaders 4 festival that is discussed. Tickets can be purchased here.  
Playlist
Amorphis: Thousand Lakes
Napalm Death: Lucid Fairytale
Psycroptic: Battling The Misery Of Organon
Carcass: Corporal Jigsore Quandary
Whiplash: Spit On Your Grave
talk break
My Dying Bride: The Blue Lotus
Dark Tribe: Iron Grave
Therion: Cthulhu
talk break
Cemetary Urn: The Urn Of Blood
Zeni Geva: Dead Sun Rising (live)
Inquisition: Enter The Cult
Christbait: Swing
Flatigious Idiosyncracy In The Dilapidation: Euthenasia
JK Flesh: Punchdrunk
talk break
Contrastic: Sex With Four Walls
Brujeria: Matando Gueros
Arcturus: Evacuation Code Decipher
Kataklysm: Fathers From The Suns
Protector: The Mercenary
Evoken: Withering Indignation
Slayer: Jesus Saves (live)
talk break
Motorhead: Motorhead (live)
Here is the Conan shirt we discuss which Mark bought for me (thanks mate!).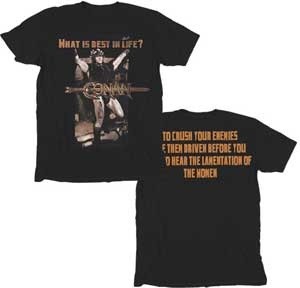 Here is a photo of me wearing said shirt during MDF and posing with the extremely gorgeous and top lass Carlotta Champagne who I had the pleasure of touring Baltimore with on a party bus (more stories of this coming soon in the MDF 2012 Day 2 review).
Also the band Batillus that we play were one of the best discoveries of mine on my US trip so check them out here. They are currently touring the US with Aussie doom legends Whitehorse so make sure you check them out if you get the chance as both bands are heavy as buggery!! Here is the Facebook event for the whole Whitehorse tour.
Playlist
Amorphis: Thousand Lakes
Napalm Death: Pride Assassin
Disma: Vault Of Membros
Destroyer 666: A Sermon To The Dead
Al-Namrood: Entesarat Al Ashawes
talk break
Batillus: The Division
Headmeat: Angels vs Insects
Arafel: The Siege
Destruction: Eternal Ban
Protector: The Mercenary
talk break
Slayer: Dead Skin Mask
Odz Manouk: The Indisciplinarian
Rigor Mortis: Die In Pain
Urna: K-TH-R
Inquisition: Cosmic Invocation Rites
talk break
Summonus: Zeichen Der Heke
The Lord Weird Slough Feg: Walls Of Shame
Satyricon: Forhekset
Beanflipper: Falling Apart
DBC: Power And Corruption
Kvelertak: Nekroskop
talk break
Entombed: Sinners Bleed
Bethlehem: Du Sollst Dich Toten
Bathory: Raise The Dead
Godflesh: Mothra
talk break
Judas Priest: Rapid Fire