Here is the Conan shirt we discuss which Mark bought for me (thanks mate!).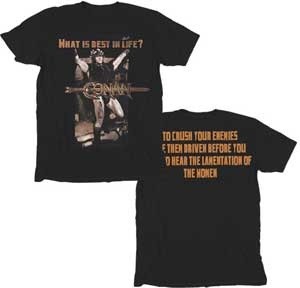 Here is a photo of me wearing said shirt during MDF and posing with the extremely gorgeous and top lass Carlotta Champagne who I had the pleasure of touring Baltimore with on a party bus (more stories of this coming soon in the MDF 2012 Day 2 review).
Also the band Batillus that we play were one of the best discoveries of mine on my US trip so check them out here. They are currently touring the US with Aussie doom legends Whitehorse so make sure you check them out if you get the chance as both bands are heavy as buggery!! Here is the Facebook event for the whole Whitehorse tour.
Playlist
Amorphis: Thousand Lakes
Napalm Death: Pride Assassin
Disma: Vault Of Membros
Destroyer 666: A Sermon To The Dead
Al-Namrood: Entesarat Al Ashawes
talk break
Batillus: The Division
Headmeat: Angels vs Insects
Arafel: The Siege
Destruction: Eternal Ban
Protector: The Mercenary
talk break
Slayer: Dead Skin Mask
Odz Manouk: The Indisciplinarian
Rigor Mortis: Die In Pain
Urna: K-TH-R
Inquisition: Cosmic Invocation Rites
talk break
Summonus: Zeichen Der Heke
The Lord Weird Slough Feg: Walls Of Shame
Satyricon: Forhekset
Beanflipper: Falling Apart
DBC: Power And Corruption
Kvelertak: Nekroskop
talk break
Entombed: Sinners Bleed
Bethlehem: Du Sollst Dich Toten
Bathory: Raise The Dead
Godflesh: Mothra
talk break
Judas Priest: Rapid Fire