This was our final radio show with 2XX. After 19 odd years of producing a fortnightly show it was a bit sad to leave for the final time but fear not as Mark, Stephen and myself will be continuing on producing a metal radio show that will be available online. Details are yet to be finalised but keep an eye our here or at the Let's Mosh Facebook page here. We will be shedding the crappy Let's Mosh name as it was never our choice so if you have a decent idea please leave a comment as the names that Mark and I have proposed are rather puerile.
Here is a photo taken of the three of us with Stephen looking gormless on the left, me smiling like an idiot in the middle and Mark looking like a derro on the right.

As it was our final 2XX show we of course played plenty of classics including a decent swag of Gore Beyond Necropsy songs, the mandatory Slayer, Therion and Napalm Death songs and also I played the Death song which was the first death metal I heard thanks to our predecessor show The Blitz. I was just searching my archives for an ancient flyer I have for The Blitz and I discovered the letter shown below which I received when I was in Year 12 at Copland College and hosted a weekly radio show which was blared from speakers in the canteen. As you can see poor Adam Rogers was a tad disturbed by the dulcet tones of N.W.A. being blasted at the poor canteen staff and I do recall getting a verbal warning about volume too (possibly revenge on my part for him misspelling my name!). I was one of several metal shows I think and I still remember my mate Rhyl jabbing a tape of the first Deicide album at me and demanding I play Blaspherion! I don't recall ever playing other than heavy metal so I suspect his "NO SECOND CHANCES AT ALL" was only a bluff. Only problem was that barely anyone had that time off class so I was playing to a mostly empty canteen. Sounds a bit like 2XX…
This is the Duran Duran clip which we discuss on the show which is still played quite regularly in this uncut form on Rage. As a young lad with hormones galore this clip rated nearly as high as Samantha Fox's "Touch Me" clip.

Playlist
Amorphis: Thousand Lakes
Napalm Death: Success?
Bolt Thrower: World Eater
Exodus: Bonded By Blood
Hemdale: Are You Pornophoric?
talk break
Christbait: Coinslot My Butt Crack (live)
Dementor: The False Faith
Arallu: Evil Has No Boundaries
The Levitation Hex: Manipuliar
Flotsam And Jetsam: She Took An Axe
Therion: Illusions Of Life
talk break
Katatonia: Lethean
Bethlehem: Schatten Aus Der Alexander Welt
Okera: In Solitude
Anal Cunt: Pepe The Gay Waiter
Evanescence: My Immortal
Anaal Nathrakh: Pandemonic Hyperblast
talk break
Mastodon: Crack The Skye
Cock And Ball Torture: Where Girls Learn To Piss On Command
Dissection: Where Dead Angels Lie
Godflesh: Love Is A Dog From Hell
Death: Leprosy
talk break
Motorhead: Killed By Death
AC/DC: The Razor's Edge
Morbid Angel: Lord Of All Fevers And Plague
Whiplash: Walk The Plank
Gore Beyond Necropsy: Dead Dog Idolization
Gore Beyond Necropsy: Fartstorm
Gore Beyond Necropsy: Deaf, Dumb, Blind
Gore Beyond Necropsy: Filth Sounds Of Hatred
Gore Beyond Necropsy: Cock Rock Assholes
Gore Beyond Necropsy: Gurgling Spiral Repulsion
Gore Beyond Necropsy: Global Tumor
Gore Beyond Necropsy: Raping The Arse
Gore Beyond Necropsy: The Worst Shit In The World
Rotten Sound: Insane
talk break
Slayer: At Dawn They Sleep
Napalm Death: Scum
Stephen was absent for this show. As stated at the end of the show, this may be our final episode with 2XX. I won't go into details yet but we are hoping that the situation can be remedied as it's been a highly enjoyable part of our lives since the mid 90s. I'll keep you all posted.  
The metal documentary that Mark mentions is Metal Evolution which is listed here. I certainly hope they make more as they don't appear to have covered the more extreme end of the genre that we obviously favour on the show. For Australian readers it's being shown on ABC2 on Saturday and Tuesday nights and their web page is here. Also this article outlines use of music as torture which includes Deicide being played to prisoners but no mention of metal at Waco though.   
I couldn't find the footage of Copremesis live however here is a picture of Paulo drinking his own piss at a gig in 2011. What a champion bloke and sex god he is!! 
The Woodstock article we discuss is here. Interesting article but the highlight is definitely this picture!!
Playlist
Amorphis: Thousand Lakes
Open Wound: More Than Entertainment
Septic Flesh: The Undead Keep Dreaming
Celtic Frost: Dethroned Emperor
Entombed: Dusk
Chapel: Satanist
talk break
King Diamond: One Down, Two To Go
Mortician: Zombie Apocalypse
Emperor: The Loss And Curse Of Reverence
The Kill: We Want Blood
The Kill: Walking Dead
Conan: Satsumo
talk break
The Lord Weird Slough Feg: High Passage / Low Passage
Coroner: Masked Jackal
Absurdgod: KC 666
Gehenna: A Witch Is Born
Katatonia: Teargas
Angelcorpse: Pleasure To Kill
Anal Cunt: Unbelievable
Acid Bath: Jezebel
talk break
Godflesh: Tiny Tears
Samhain: Kiss Of Steel
Alchemist: Yoni Kunda
Absu: Swords And Leather
Gore Beyond Necropsy: Into
Gore Beyond Necropsy: Faecal Gore Gore Attack
Gore Beyond Necropsy: Chain Of Torture
Gore Beyond Necropsy: Horrendous Nazi Infection
Gore Beyond Necropsy: Gore Gore Warscars
Slayer: Angel Of Death (live)
Napalm Death: Social Sterility (live)
Inquisition: Astral Path To Supreme Majesties
talk break
Armoured Angel: Ordained In Darkness
If this link is not working for you please try this one.
Mark was absent for this show.
This show features 2 songs from the new album from The Levitation Hex which is a band that features Adam from Alchemist, several current and ex members of Alarum and Ben from Aeon Of Horus. They are just about to play their first set of shows in Melbourne, Canberra and Sydney before touring Europe with Alarum. The Facebook events are linked to the city names and below are the flyers for the gigs. The album is now available from the website as either a proper cd or digital download so check it out as it kicks lots of arse!
Here is the flyer for the gig I mention that coming up in London on August 4 featuring 5 Australian metal bands. What a killer gig and if you are in the area I'd highly recommend attending.
Playlist
Amorphis: Thousand Lakes
Napalm Death: Malicious Intent
The Levitation Hex: Manipuliar
Hate Forest: Wscieklose Ktora Nadchodzi
talk break
Gospel Of The Horns: Sorcery & Blood
Salem: Kaddish
At The Gates: Slaughter Of The Soul
Agathocles: More Patches Than Brains
Satanic Bloodspraying: Tetragrammaton
talk break
Al-Namrood: Bani La'em
Autopsy: In The Grip Of Winter
Kartikeya: Thunders Of Indra
Ghoul: Gutbucket Blues
Holy Hydra: Until The End Of Everything
talk break
Ulcer: Wrapped In A Flag
Within Temptation: Jane Doe (live)
Head Like A Hole: Never Mind Today
Bethlehem: The Eleventh Commandment
Nasum: Shadows
Isis: False Light
talk break
Deep Purple: Fireball
Bulletboys: Smooth Up In Ya
Napalm Death: Scum
Mastodon: Emerald
Witchrist: The Tomb
talk break
The Levitation Hex: Depresedemic
If this link is not working for you please try this one.
I was absent for this show. My place was taken by guest cohost Reggae from long running Canberra metal band Reign Of Terror as he's such a nice chap and also conned Mark into picking him up. As you may be able to tell he'd had a few lemonades prior to the show.
During this show Reggae tells a story about when Reign Of Terror met rugby league legend Mal Meninga as part of Youth Week 1997 so here are the photos which I pinched from Reggae's Facebook. I would kill for that Abramelin shirt that Victor is wearing!
Mal was also famous for a very shortlived political career where he managed to resign during the middle of the announcment of his candidacy. Below is the clip of his lengthy public service. Also shown is how NOT to tackle Big Mal.
Also here is the newpaper headline that Jonesy mentions.
Playlist
Amorphis: Thousand Lakes
Napalm Death: Unchallenged Hate (live)
Marduk: Bloodtide (XXX)
Damaged: Soul Vaxation Accidental
talk break
Mastodon: Stargasm
Vio-Lence: Serial Killer
Sadistik Exekution: Evoke War Vomit
Saralisse: Vanquish
Summonus: The Gallows
talk break
Armoured Angel: Hymn Of Hate
Carcass: Embodiment
Genghis Tron: Lake Of Virgins
talk break
Reign Of Terror: I'll Always Dismember You
Deinonychus: Burial Ground
Scrotum: I Want To Rock And Roll
Venom: In League With Satan
talk break
Demigod: My Friend Judas
Agathocles: A For Arrogance
Cryptopsy: Defenestration
talk break
Temtris: Deadline
Kataklysm: Beckoning Of The Xul
War: War
talk break
Psychrist: Haven Of Betrayal
Disma: The Vault Of Membros
Alchemist: Chinese Whispers
talk break
Wesley Willis: They Threw Me Out Of Church
Mark and Steve were absent for this show.
I played a song by Headless Death and here is their whole demo for download. They feature Christoph from Roskopp/Internal Rot/Trench Sisters and Zev from Roskopp/Aeroflot/Injury To Eye and some other blokes so check out their tasty death grind.
I mentioned Voivod playing all of Dimension Hatross live and I thought it was just a Canadian gig but I'd forgotten they'd curated the Roadburn festival this year and played all of it there too. Here is the live version of the song I played on radio and their whole set is available here.
Playlist
Rome: Ni Dieu Ni Maitre
Deicide: Sacrificial Suicide
Katatonia: Dead Letters
Dead Infection: From The Anatomical Deeps
Deathspell Omega: Scorpions And Drought
talk break
Sabbat: Do Dark Horses Dream Of Nightmares?
Carnage: Blasphemies Of The Flesh
The Levitation Hex: Scratch A Life Find A Thief
Macabre: Vampire Of Dusseldorf
talk break
Dying Fetus: In The Trenches
Beherit: The Gate Of Nanna
Naked City: Obeah Man
Naked City: Facelifter
Naked City: NY Flat Top Box
Rompeprop: Embryoyo
Pisschrist: System Stagnates
Impiety: Sodomythical FrostGoats
talk break
Anhedonist: Carne Liberatus
Voivod: Macrosolutions To Megaproblems
Headless Death: Dietary Underclass
Nile: Supreme Humanism Of Megalomania
Diocletian: The Iron Fist
talk break
Manowar: The Lord Of Steel
Warsore: Industrial Suicide
Warsore: Burial Ground
Warsore: Decomposed
Arcturus: Icebound Streams And Vapours Grey
Candiru: Angles
talk break
Old Man Gloom: Sleeping With Snakes
Exit-13: Societally Provoked Genocidal Contemplation
Machetazo: Banquete Funerario
Mournful Congregation: The Waterless Streams
talk break
Idylls: Paradise Of Blood
Tiamat: On Golden Wings
The Kill: Fucking Doyle
Sadistik Exekution: Internal Klok
Damaged: Dethroned Emperor
Napalm Death: Deceiver
Napalm Death: Lucid Fairytale
Napalm Death: In Extremis
talk break
Slayer: At Dawn They Sleep (live)
Mark was absent for this show. Here is the live clip of Lawnmower Deth that we discuss and also some older footage.
Here is some live footage from Evil Invaders 4 of Backyard Mortuary which features the moon by anti-pants guru Stu (sadly not captured properly on film) and also a pic of one of the signs waved. Haha I can see myself headbanging on the left of the screen near the front. Bald spot thrash attack!
Playlist
Amorphis: Thousand Lakes
Napalm Death: Nazi Punks Fuck Off
Backyard Mortuary: Mutation
Darkthrone: In The Shadow Of The Horns
talk break
Alchemist: Purple
Cold Body Radiation: Loss
Martyrdöd: Kollisionskurs Mellan Två Världar
Iron Maiden: Revelations (live)
Murkrat: Plague Gestation
talk break
Negură Bunget: Țara de Dincolo de Negură
Convent Guilt: No Dawn In Lucifer's Light
Therion: Nightside Of Eden
Infinitum: Vexing The Progenitor
Macabre: Zodiac
talk break
Law Of The Tongue: DEvolution
Persecution: Contaminant
Terrorizer: Dead Shall Rise
Lawnmower Deth: Cob Woman of Deth Meets Mr. Smelly Mop
I'm In A Coffin: Finally Happy
talk break
Bolt Thrower: World Eater
Enemy Soil: Direct Action?
Impaled Nazarene: The Horny And The Horned
D.R.I.: I'd Rather Be Sleeping
Anaal Nathrakh: When Humanity Is Cancer
Splattered Entrails: Vanity Of Perversion
Regurgitate: The Pulsating Feast
Regurgitate: Domination Through Mutilation
talk break
Saint Vitus: Look Behind You (live)
I was not present for this show however I was listening online. Normally I would have stopped the other 2 idiots from rambling on so much about cars but even after whinging via sms they continued crapping on. When I'm there this is the only car we're allowed to discuss (and maybe the other car behind it).
Also to date Mark still hasn't received the amp he ordered from overseas that he rants about in this show. Poor fella.
Below is the flyer to the Evil Invaders 4 festival that is discussed. Tickets can be purchased here.  
Playlist
Amorphis: Thousand Lakes
Napalm Death: Lucid Fairytale
Psycroptic: Battling The Misery Of Organon
Carcass: Corporal Jigsore Quandary
Whiplash: Spit On Your Grave
talk break
My Dying Bride: The Blue Lotus
Dark Tribe: Iron Grave
Therion: Cthulhu
talk break
Cemetary Urn: The Urn Of Blood
Zeni Geva: Dead Sun Rising (live)
Inquisition: Enter The Cult
Christbait: Swing
Flatigious Idiosyncracy In The Dilapidation: Euthenasia
JK Flesh: Punchdrunk
talk break
Contrastic: Sex With Four Walls
Brujeria: Matando Gueros
Arcturus: Evacuation Code Decipher
Kataklysm: Fathers From The Suns
Protector: The Mercenary
Evoken: Withering Indignation
Slayer: Jesus Saves (live)
talk break
Motorhead: Motorhead (live)
Here is the Conan shirt we discuss which Mark bought for me (thanks mate!).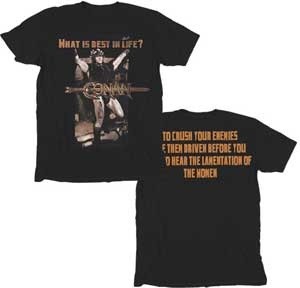 Here is a photo of me wearing said shirt during MDF and posing with the extremely gorgeous and top lass Carlotta Champagne who I had the pleasure of touring Baltimore with on a party bus (more stories of this coming soon in the MDF 2012 Day 2 review).
Also the band Batillus that we play were one of the best discoveries of mine on my US trip so check them out here. They are currently touring the US with Aussie doom legends Whitehorse so make sure you check them out if you get the chance as both bands are heavy as buggery!! Here is the Facebook event for the whole Whitehorse tour.
Playlist
Amorphis: Thousand Lakes
Napalm Death: Pride Assassin
Disma: Vault Of Membros
Destroyer 666: A Sermon To The Dead
Al-Namrood: Entesarat Al Ashawes
talk break
Batillus: The Division
Headmeat: Angels vs Insects
Arafel: The Siege
Destruction: Eternal Ban
Protector: The Mercenary
talk break
Slayer: Dead Skin Mask
Odz Manouk: The Indisciplinarian
Rigor Mortis: Die In Pain
Urna: K-TH-R
Inquisition: Cosmic Invocation Rites
talk break
Summonus: Zeichen Der Heke
The Lord Weird Slough Feg: Walls Of Shame
Satyricon: Forhekset
Beanflipper: Falling Apart
DBC: Power And Corruption
Kvelertak: Nekroskop
talk break
Entombed: Sinners Bleed
Bethlehem: Du Sollst Dich Toten
Bathory: Raise The Dead
Godflesh: Mothra
talk break
Judas Priest: Rapid Fire
One of the bands we played is a new Canberra doom/sludge band called Law Of The Tongue which features ex-Pod People and Tranquil Deception members. Their brand new 7 track album is available to listen to in it's entirety here. Below is the cover art which if I'm not mistaken is by legendary Australian artist Glenno who has produced covers for Captain Cleanoff, Frenzal Rhomb, Pod People, and Splatterheads among others. You can check his stellar work out further here.
Also here is the Jani Lane (Warrant) interview that Mark mentions where he whinges about having written a smash hit song. He has since died from booze so at least he no longer suffers from Cherry Pie.

Playlist
Amorphis: Thousand Lakes
Napalm Death: Riot Of Violence
Midnight: Satanic Royalty
Destroyer 666: Shadow
Brutal Truth: Godplayer
talk break
Inverloch: Shadows Of The Flame
Vio-Lence: Calling In The Coroner
Arkan: Tied Fates
Law Of The Tongue: Used And Broken
Chaos Moon: Elder Immortal Shrine
talk break
Godflesh: Veins
Portal: Larvae
Bethlehem: Schatten Aus Der Alexander Welt
Mournful Gust: From Illusions And Jealousy
Pysnonemous: The Tempter
talk break
Gargoyle: Bala Bara Vara
Mastodon: Ghost Of Karelia (live)
Pseudogod: Necromancy Of The Iron Darkness
Legion Of Doom: Ancient Wisdom Within
Sick Of It All: Busted
Kill For Satan: Desolate
talk break
Cankered Corpse: Who Possess The Dead?
Therion: Uthark Runa
Bolt Thrower: War Master
talk break
Iron Maiden: Wrathchild
Autopsy: Destined To Fester
talk break
Napalm Death: The Kill
Napalm Death: Scum
Steve was absent for this show.
The rather bizarre Japanese song we play by Utsu-P is produced using the Kagamine Rin vocaloid which is a singing synthesizer software package that is massively popular in Japan and used on many thousands of songs. Mark is quite obsessed with this stuff and has blu ray discs of vocaloid songs played live with a hologram performing the singing and dancing. Below is an example of the most popular vocaloid Hatsune Miku which is the software that Mark wants to produce black metal with and is also the source of the vocals of the Nyan Cat video. As you can see the crowd are a little too into it for my liking but I do love the Japanese as they have quite the special culture.
Here is the picture of me holding the real Monistat 7 yeast infection cream taken in a Chicago chemist. I actually own a t-shirt of the band Monastat 7 which has a charming back print of diagrams of how to apply the cream and once when I wore it in a shop a woman behind me said in a loud voice "maybe I'll get a shirt for bowel cancer" although she didn't have the guts to say it to my face. I barely restrained my laughter. Small things…
Here is a picture of Mark's rather silly shoes that we discuss. That boy has too much time on his hands.
Playlist
Celtic Frost: Innocence And Wrath
Napalm Death: Mindsnare
Chaos Moon: Elder Immortal Shrine
Splattered Entrails: Incessant Torture
…And Oceans: The Room Of Thousand Arts
Agnostic Front: Fascist Attitudes
talk break
Mitochondrion: Agonizing (In The Shadow Of The Hammerblow)
Anhedonist: Saturnine
Red Harvest: Dead Men Don't Rape
Monastat 7: Urethra, Urethra I've Discovered Electricity
Cirith Gorgor: Conquering The Shadowworld
Magnacite: Humanity's A Lie
talk break
Utsu-P featuring Kagamine Rin: Allegra
Voivod: Pre-Ignition
Looking Glass: Child Of Vertigo
Slugathor: Cycle Of Destruction (incorrectly announced as Circle Of Death)
DBC: Negative Reinforcement
talk break
Avrigus: Flesh
Massacre: Biohazard
Bile: Camp Blood
Danzig: Apokalips
Electric Wizard: Legalise Drugs And Murder
talk break
Nuclear Assault: Brainwashed
Coffins: Purgatorial Madness
Protector: Quasimodo
Pantalones Abajo Marinero: Untitled (track 1 from PAM/Dataclast split)
Pantalones Abajo Marinero: Untitled (track 2 from PAM/Dataclast split)
Comecon: Ulcer
talk break
Manowar: Hail And Kill